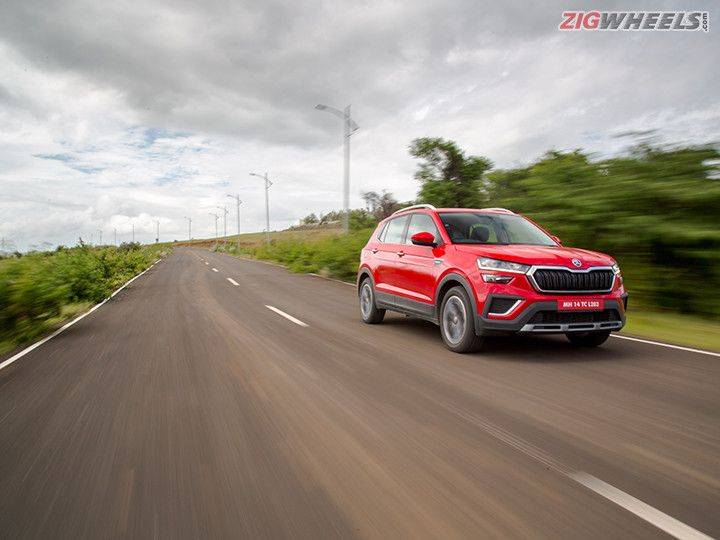 We already know that Skoda India's latest offering, the Kushaq SUV, has a 6-speed manual gearbox common in both its 1-litre TSI and 1.5-litre TSI petrol offerings. But they get different automatic transmissions in the form of a 6-speed torque converter (1-litre TSI), and a 7-speed DCT unit (1.5-litre TSI). The question is, which of the two setups are ideal for the SUV? Let's find out:
Spec Check

| | | |
| --- | --- | --- |
|   | Skoda Kushaq 1.0 TSI | Skoda Kushaq 1.5 TSI |
| Power (PS) | 115PS  | 150PS |
| Torque (Nm) | 178Nm   | 250Nm |
| Transmission Option | 6-speed torque converter automatic  | 7-speed DSG (dual-clutch) |
On paper alone, it is clear to see that the 1.5-litre TSI with the 7-speed DCT option is the better bet over the 1-litre TSI 6-speed AT combination. But being good on paper is one thing, and being good in the real world can be another topic altogether.  So we got the VBox out to put these two setups to the test.
Performance Runs

| | | |
| --- | --- | --- |
|   | Skoda Kushaq 1.0 TSI AT (WET)   | Skoda Kushaq 1.5 TSI DCT (WET) |
| 0-100kmph | 12.53 seconds | 9.38 seconds |
| Kickdown (20-80kmph) | 8.45 seconds | 5.49 seconds |
A positive to take with our road test was that both setups were tested in wet conditions, so discrepancies between them should be minimal at best, despite the conditions not being optimal. Getting back on topic, the Kushaq's 1.5-litre TSI and 7-speed DCT setup has the edge, posting a 9.38-second 0-100kmph sprint time and a 5.49-second kickdown time. Both figures are up to three seconds faster than the 1-litre TSI torque converter setup at  12.53 seconds (0-100kmph sprint)  and 8.45 seconds (kickdown).
Fuel Economy

| | | |
| --- | --- | --- |
|   | Skoda Kushaq 1.0 TSI  AT | Skoda Kushaq 1.5 TSI DCT |
| City | 12.40kmpl | 12.72kmpl |
| Highway | 16.36kmpl | 16.68kmpl  |
Interestingly, the 1.5-litre TSI DCT still comes out on top in the fuel efficiency stakes, despite having a bigger displacement and performance on tap.  It returned 12.72kmpl within the city and 16.68kmpl on the highway. That said, the 1-litre  TSI AT came quite close in frugality. 
Price

| | | |
| --- | --- | --- |
|   | Skoda Kushaq 1.0 TSI  AT | Skoda Kushaq 1.5 TSI DCT |
| Ex-showroom Price | Rs 14.20 lakh (Ambition), Rs 16.20 lakh (Style)* | Rs 18 lakh (Style)* |
*Prices of the Style are for the updated model which deliveries will begin at the end of October
Taking everything into consideration, if you're willing to shell out more dosh for performance and slightly higher frugality, the Kushaq's 1.5-litre petrol-DCT combination is the best option. But if you're a little tight on budget and can compromise on performance for largely similar frugality, the 1-litre TSI AT option does the job. Also, you can spec it in a lower variant. Click here for a slightly more in-depth look at how they perform in the real world  
The Skoda Kushaq takes on a variety of rivals including the Hyundai Creta, Renault Duster,  Kia Seltos, Tata Harrier, VW Taigun and MG Astor.